Nomad (n.) " a wanderer, one of a tribe of people who have no fixed abode.
Intro
Imagine yourself drinking your morning coffee, looking at the sight of the sea stretching beyond the horizon. Last night you talked to your colleague, who has rented a small wooden house in the mountains, and she/he is all but euphoric about seeing a deer wandering in the woods. That story reminds you to do a final check-up on visa regulations in that country you always wanted to visit. You write that down and go to your work desk to join your team in a daily meeting to briefly discuss the progress made and the tasks for today.
The chances are that you are enjoying the thought of becoming a digital nomad.
If 2020 has taught us anything, it is that we should be flexible and search for opportunities beyond our current limits.
That also applies to the location constraints of our day-to-day jobs.
There seem to be over 35 million digital nomads across the globe. Another fun fact from research says that if the digital nomad community were a country, it would be the 38th most prosperous country based on gross national income per resident (source).
The story behind it
A digital nomad is a person who has a job that is not tied to a specific location, changes residence from time to time, and does most of the work using devices with internet connectivity.
That's it.
A digital nomad can be an employee of a larger organization, a freelancer, or even an entrepreneur.
Some say that being a digital nomad is not "a thing to do". Other than that, it is a lifestyle.
Pros and cons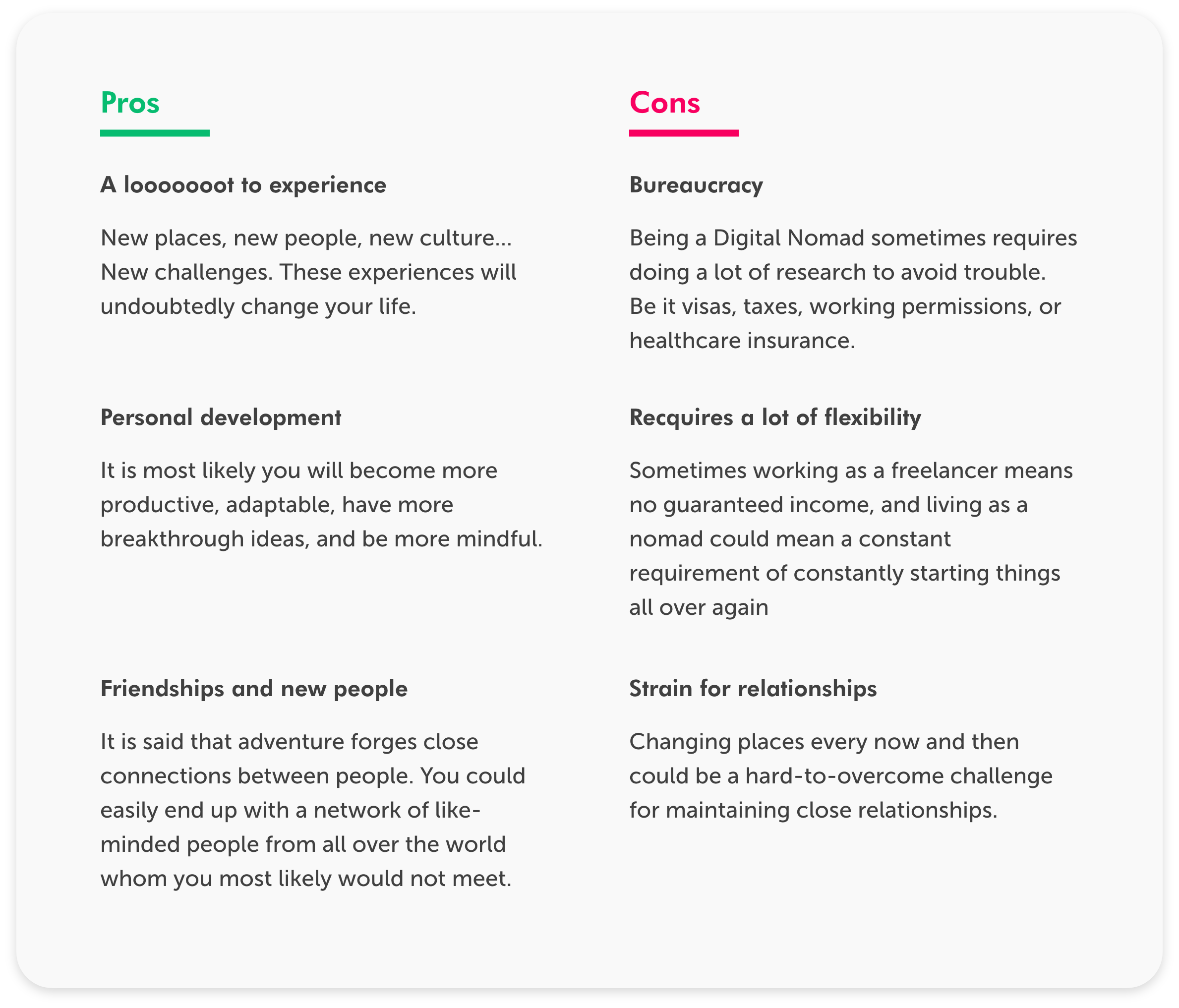 Could you flourish as a nomad?
The self
That is a tough one since there is no empirical evidence of what personality characteristics, abilities, and skills contribute to being a successful nomad.
But for the time being, let's say that one should pay attention to these.

There is a "nifty" quiz that could help you better understand your preferences as a potential digital nomad.
https://www.deftnomad.com/personality-quiz-what-digital-nomad-life-are-you-made-for/
The job
It goes without saying that some jobs are more suitable for taking "to go."
The research mentioned above conducted on over 4000 English-speaking members of the digital nomad community reports Top 15 most commonly represented DN jobs.
| | |
| --- | --- |
| 1. Marketing | 9. Translation |
| 2. IT/Development | 10. Journalism |
| 3. Design (Digital) | 11. Videography |
| 4. Writing (Content, Copy) | 12. Coaching |
| 5. eCommerce | 13. Social Media Mgmt |
| 6. Online Courses | 14. Business Consultant |
| 7. Photography | 15. Architect |
| 8. Virtual Assistant | 16. Other (a bit over 20%) |
Since we are in IT, the next question in line is: What makes a developer job suitable for nomadism?
A developer himself (source) says that there are three main reasons:
The IT industry by default pushes the boundaries, so remote could very well be the future of work.
Most of the processes or products are on the cloud, so it doesn't matter whether their colleagues are physically next to them or not. Also, there is an abundance of communication platforms available.
3. Self-Paced & Low-Client Facing
The author says that being a developer can be a very "background job. "A person might not have to write code at any particular time of the day, and "all tasks and issues are (hopefully) logged and organized. "
(Besides that, a developer job is 👌 because it is ever evolving, in, high-demand, and mostly well paid.)
If you are looking for a remote job, we highly recommend sifting through Clutch,
"Clutch is your data-driven field guide for B2B buying and hiring decisions."
Or on DesignRush.
"DesignRush is your guide to finding the best professional agencies, categorized by their areas of expertise. We analyzed and ranked hundreds of agencies to help brands find top full-service agencies, web design companies, digital marketing firms, and top technology companies."
Tips for a successful digital nomad life
Those will be presented in a before and after manner. Things you should be prepared for before embarking on a different lifestyle and managing stuff once you are in a land far, far away.
Before
1. Prepare yourself mentally
Codemotion mentions "overcoming the mental block." This means ditching some of the thought patterns that you might have taken for granted. Things like quitting a permanent position, being flexible about living conditions, budget resources, possible changes in relationships with family, friends, or partners, etc.
-Be careful when considering your location of interest. Here are some first-hand criteria. -Check visa and customs rules (more on that in the next section) -Think about currency conversion -Explore opening a "foreign" bank account -Study best mobile/internet providers (this could also mean unlocking your devices so they can support various carriers) -Familiarize yourself with driving rules or public transport options -Get global, full health insurance -Consider things that could affect your business, quality of work, and/or income
3. Set yourself with a back-up budget
A recommendation is an amount for at least six to eight months. This also means getting rid of unnecessary expenses. That will provide you with enough autonomy and security for situations where you don't have enough active income.
4. Consider what could go wrong and integrate it into your plan
Almost every road has some bumps. You will outsmart them more effortlessly if you have a plan B (or C, if needed).
5. Leave your luggage in the past
It is said that "the secret is to travel light." Bringing more stuff with you could further complicate the situation. If you realize that you miss/lack something, there is a good chance you will be able to purchase it at your destination.
After
Some say that "as a digital nomad, your budget should be your bible." Things to consider: living expenses, cost of travel, accommodation, activities you would like to experience, costs of working, etc.
To at least have an approximate idea of when and how you will do something. Make sure to leave room for improvisation and unexpected stuff.
3. Join the vibrant digital nomad community
Be it through meetups, events, or virtual meeting sites. Just cruise the internet, and you will probably find something that suits you.
4. Hang out with the locals and learn from them
It would be impossible to list all of the stuff you could learn or experience. After some time, you could find yourself getting along just fine with knowing multiple languages.
5. Remember your contacts at home
Write letters, send gifts, or video-chat from an exciting place.
6. Maintain healthy habits
Be it through exercise, diet, "spending" time in nature, or taking care of your mental health. Psst! Nomad List
Psst! Nomad List is a super cool website with a whole bunch of information that you will find helpful… and fun. Besides exploring places based on what they have to offer, Nomad List even has a dating app. 💘
Being a digital nomad in Croatia
If you ask those 4000 people who took the survey mentioned above, Croatia is the top-rated DN country in the Balkans and Eastern Europe.

Some of Croatia's strong points:
Most of the cafes have free wi-fi, and the overall signal is pretty good.
Croatia is a small country. That means that you could easily explore the country without spending too much time on travel. Also, Croatia is pretty well connected to the rest of Europe.
🗣️ English is widely spoken
Some estimates say that more than 80% of the population speaks English.
💶 Lower living costs than most of the EU
Also, we could be transitioning to the euro in the years to come.
We do not joke around with what we eat. Disclaimer: Do not look at these if you are hungry.
From a digital nomad himself: "… there are few places in Europe that can offer the relaxed lifestyle of Croatia." Indeed, we have developed a particular state of being and named it "fjaka". More on that in A Guide to Mastering Dalmatian Fjaka. Some other insights in Croatian phrases.
Some of the downsides could be:
* Digital Nomad culture is still being developed, so it is not yet well-groomed.
* Sometimes, our bureaucracy can be a bit slow.
Fortunately, as of last month, you could submit your application for the DN visa through an online service. 🥳 You can find more information from our Government. And some first-hand experiences on Total Croatia's website.
If you want to keep up with the progress of the digital nomad community in Croatia, follow the Croatian Digital Nomad Association. Having been formally founded just about four months ago, they have achieved a lot by pushing the forefront of development.
Conclusion
We hope that we have managed to tell you the story of digital nomads. Without further ado, here are some heartfelt pieces of advice from a nomad herself.
"You can't possibly know what you'll want in two or more months from now. If you think you do, it's quite probably just a reflection of what you want right now, based on who you are at this moment."
"There's a certain magic to just going with the flow — going to the next place with a new friend, following a sudden spark of curiosity for a certain place or experience, leaving the option open to just go back home when you feel like it."
Sources
---