The COVID-19 pandemic changed everything.
In 2020, 90% of small businesses converted some aspects of their business to a digital format, and not to mention the larger corporations who started to invest millions in their digital transformation and digitization.
So, everybody is now going online, and the competition to grab the online audience becomes each day more tense.
Thanks to this new digital revolution, companies are evolving and outgrowing each other faster than ever. One day you are in, the second day you are out. It only depends on how well you are prepared for dynamic and ever-changing trends and technologies.
So, would custom software help your business in this new era?
OK, so you do probably agree with what I wrote before. People are spending more time online than ever before.
So, how to keep your business competitive?
You can create a website, an app or other software program that'll help you reach out to your customers and users.
And there are two ways to get software: buy an off-the-shelf solution or create a product from scratch - a software customized for your specific needs.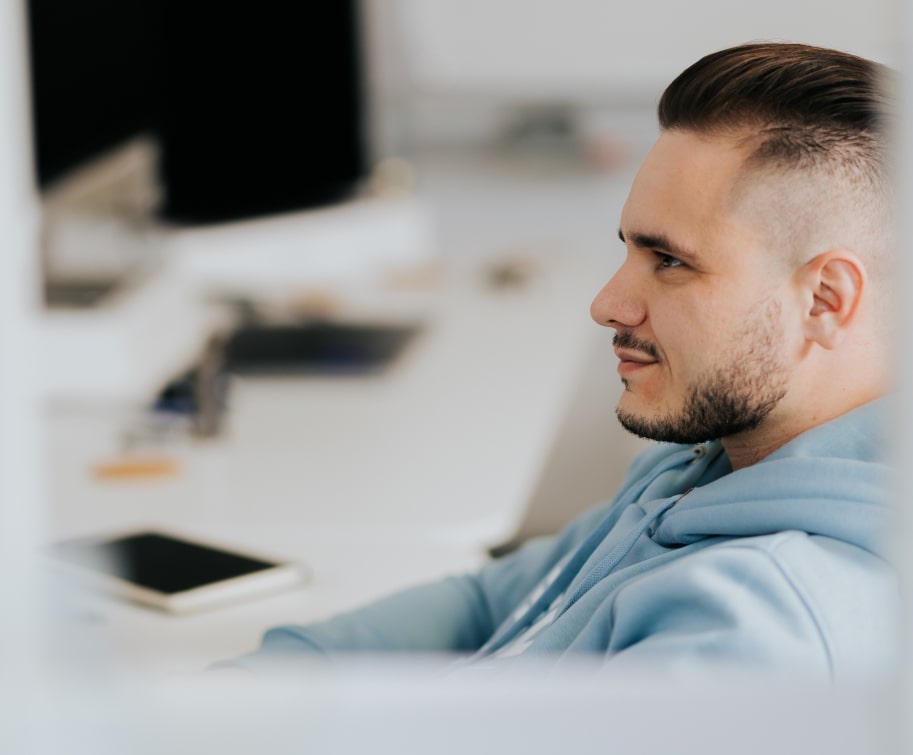 Which option should you pick?
Off-the-shelf software has generic solutions; there are no customizations or adaptations to your core business, and it's not specifically designed to meet your needs.
Custom software is a type of system tailored to your needs, allowing you to meet all of your business demands effortlessly.
It's flexible, easy to maintain which is crucial in today's business world. Once your business scales, it is also easier to upgrade.

It's created for your specific needs to strongly enhance your business.

It's more secure from hackers' attacks.

It might be a little pricier but with the number of benefits it provides, it is definitely beneficial in the long run.
You need to run your business in the most efficient way to outrun your competitors.
To do that, you need to have software that saves you time and money- things that custom software does perfectly.
If you decide to stay ahead of the competition with custom software, this chapter is for you.
#1 QUESTION: WHAT ARE YOUR GOALS?
What are your goals in the next 3, 6, 12 months (or even further).
What would be the phases of realization?
What do you consider an MVP (Minimum viable product). This means what are the essentials to consider "Oh, okay this is my product i could basically start showing and using".
TIP:
When you set goals, it really helps developers in tersms of planning the delivery and estimating expenses.
It's even more helpful, when you lock defined goals by phases and do not change them. Organizing and delivering becomes easier then. Changing goals can cause a real mess, bringing confusion into a working process, and making project leadership harder, which can eventually lead to increased expenses.
#2 QUESTION: WHAT IS YOUR BUDGET?
How much are you capable of spending on custom software?
TIP:
Budget is something that should be defined by the start of the project.
There are two types of defining it:
Fixed price budgeting - may give you a sense of control, but it also means setting limitations to the project. A precise estimate takes time and may delay your market entry, and sometimes it's impossible to give the right estimate from the start, so the team's work is tied to a budget that may not fit the scope of the project.
T&M (Time and Material) budgeting. This is most of the time, the best approach for both sides. The reason for that is that you can feel the expenses and the value you get each month. Based on that, you can decide whether you want to continue working with an agency or change your business model.
#3 QUESTION: WHAT RESOURCES DO YOU NEED?
What is the ideal number of developers for your project? Should you include designers, copywriters, and project managers?
TIP:
A project must have resources defined:
Developers - development time is determined by the number of developers. The fewer developers, the longer the development time.
UX/UI design and UX writing - good design and copywriting are essential for the user experience of your product, and make users stay on your app or website. If you have your own in-house design team, it's essential for them to meet agency's developers to define work plans.
Product manager - Some agencies tend to use multiple PMs for one project (sure it depends on project size). On the other hand, sometimes team leads are good for both leading a team and handling meetings with clients and planning the project (we call it a "one man band"). Sometimes it works better since the team lead is technically savvy.
#4 QUESTION: ARE YOU LOOKING FOR A LONG TERM PARTNERSHIP WITH THE AGENCY?
Let's go straight to the tip.
TIP:
You can always replace the agency with another agency or with your own in-house team. It's never an easy decision, so you should think really carefully about your expectations and what you consider a good team (what values are you expecting from the agency).
In my opinion, a good team not only follows deadlines and demonstrates good work ethics, but also thinks about solutions and improvements in advance and is proactive in making your ideas even better than what they were originally planned.
No more questions to ask yourself, just one last tip:
WHEN BUILDING CUSTOM SOFTWARE, REMEMBER THIS
Being "custom-made" isn't enough for your product to be successful these days. Every year, countless apps and websites are scrapped due to poorly written code.
That's why, at Kodius, whether we're building software from scratch or upgrading existing software , we make sure the code is flawless so your app/website: suits your needs perfectly, empowers your business, gets you numerous users, has a high level of security, is easy to maintain and remains fantastically useful for a long time.
Hope this short overview helped some of you who are planning to cooperate with agencies and willing to start with their own app or website.
Zvonimir Ivašković
KodiStart Team Lead / Software Developer